This is Part Four of the 4-part series. Part One covered teams 1–5, in order of the 2017 NFL Draft. Part Two covered teams picking 6–10. Part Three covered teams 11–20. And Part Four finishes the series with teams picking 21–32.
---
21. DETROIT LIONS
TEAM NEEDS: Defensive End, Secondary, Linebacker
First things first …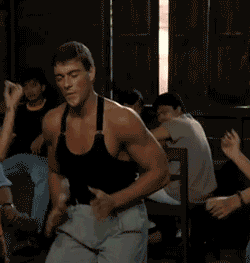 This is me right now — minus the muscles, the good looks, that fashionably provocative tank top, those boss moves, and that sweet-looking hooker.
Guys (and gals) … the NFL Draft is now just a little over two weeks away.
Boner?
You can bet your ass I do!
Draft weekend is my favorite part of the offseason, so finding the words that best describe the feeling I get is a futile process for me. However, this is an exquisite illustration of that feeling from the one, the only … Jean-Claude Van Damme, aka Mr. Silk Underwear (and if you don't get this specific reference, well then, that's on you).
You know who else it's on? Everyone in the NFC North not named the Detroit Lions (well, the Chicago Bears, too … they aren't really assholes. Props for the Mike Glennon signing. The Prince Amukamara signing was good, also).
Yeah, the Packers added a good player in tight end Martellus Bennett, but outside of that, they managed to let starting right guard TJ Lang — arguably their best lineman — sign with a division rival (the Lions). They let the versatile Micah Hyde, a DB/Safety/Return man, walk away (Bills).They also let Julius Peppers walk (Panthers), same for Eddie Lacy (Seahawks). And they made these moves without addressing a secondary that, at times — so many times — played blindfolded last year.
Wait, I forgot, they brought back former Packers DB Davon House. Woo-hoo.
Trying to address their offense line, the Vikings took a swing, missed when right tackle Ricky Wagner signed with Detroit, and eventually settled on couple of singles with the signing of tackles Mike Remmers and Reily Reiff, the man that Ricky Wagner replaced in Detroit. Minnesota then replaced Adrian Peterson with a younger, less expensive Latavius Murray, formerly of the Raiders.
Hmmm. Not sure how I feel about that one yet.
So … what does all of this mean for the Detroit Lions? I don't know. I never really have a great plan or great structure in my writing; that's the crux of my problem.
I guess what I was trying to get at is this. The Detroit Lions have a great opportunity ahead of them — the opportunity of rivaling the Packers for supremacy in the NFC North — but they need to nail this draft in order to do so.
Cliché? Yes. But also true.
Lions GM and long time New England staffer Bob Quinn had a really solid draft last year, his first go-around with the team, and I fully expect him to follow that with another solid draft this year. Alright, here we go Motor City … you poor sons of bitches.
With the 21st Pick in the 2017 NFL Draft, the Detroit Lions select …
» Taco Charlton, Defensive End, Michigan
If Taco Charlton would've run in the 4.5 to 4.7 range at the track in Indy back in February then he would likely be a top-10 lock in this year's draft.
But he didn't. Taco ran in the 4.9 range; a 4.92, to be exact.
Whoops!
Now we know for certain that it'll take him four-, possibly five-tenths of a second longer to sack the quarterback — in the event the quarterback turns around (180-degrees), sprints 40-yards (in a vertically narrow lane), without any horizontal movements made, and Taco is handed a free release at the line of scrimmage (no opposing lineman) while dressed in a cute, skin-tight onesie and track cleats.
Man … What a bummer that is.
Physically, Taco Charlton looks like he was made in a football factory. He fits the mold of what an NFL defensive end should look like, and that's a plus. But Taco brings a skillset to the table, a high-ceiling skillset, one that'll have the Lions fans, coaches, and players (looking at you, Ziggy) excited for years to come.
The knock on Charlton is that his motor runs hot and cold, an automatic red flag amongst the evaluators, which isn't exactly a fair process from my point of view. I believe that many of the prospects who enter the league having "motor" concerns were simply just bored; bored from being stuck in a shitty college situation that requires them to max out their efforts without a penny for them in return.
Listen, these are just kids. Good, hard coaching, along with the perks of the NFL lifestyle, are often enough to make a prospect want to try harder on the field, and for longer periods, as well. I'm not saying that this is always the case. But often it is.
If Charlton were to make it to #21 and the Lions didn't move from the spot, then how could they pass on him when they have a need at the position? Besides, his name is Taco. Tacos are basically one of my favorite foods of all-time. That deserves extra credit.
21. MIAMI DOLPHINS
TEAM NEEDS: Guards, D-Ends, Safety
I mean … how could I resist? Seriously, how could I resist this?
Obviously I couldn't. Nope. The Eagles fan that still exists deep within my unbiased soul found this dick logo entirely too fitting not to share — considering how Chip dicked us over in the LeSean McCoy/Kiko Alonzo deal, I felt obliged to retaliate.
The irony, right?
Surely most Dolphins fans can see the humor in this. No?
In any case …
21. MIAMI DOLPHINS
TEAM NEEDS: Guards, D-Ends, Safety
Playtime is over, but not for the Dolphins organization, as Miami's GM Chris Grier is finalizing his preparations for his second draft under that title with this team.
Much like Lions GM Bob Quinn, Grier is a former Patriots staffer that had a really solid draft last year, his first as Miami's shot-caller. He shored up the left tackle position, presumably for years to come. He added playmakers on offense as well as a really talented cornerback prospect (with oodles of potential) on defense.
Ironically enough, 2016 Kiko Alonzo had arguably his best year as a pro, as his seemingly new found health and a system-fit was just what Grier and crew were hoping to see from him. (Thanks Kiko! And we appreciate you, Billy Davis, you fuck!)
The offense really came on in 2016 under 1st year head coach and offensive "guru," Adam Gase, leaving plenty of room for optimism as we inch towards that April 27 date — if you're a Dolphins fan, that is.
And with the 22nd pick in the 2017 NFL Draft, the Miami Dolphins select …
» Charles Harris, Defensive End, Missouri
I want to make one thing clear: This isn't what I think will happen on April the 27th — this is what I would do if I were the decision maker for each of these organizations.
With that being said, I don't think that Chris Grier — or anyone from his scouting department, for that matter — hold a heavy interest in Charles Harris. Not in the first round, at least. He's just not a system fit for their base defense. I believe Taco Charlton is the man they covet in round one.
What I don't know is just how prepared the Dolphins are to go and get him, if need be. Mike Tannenbaum, the Dolphins Executive VP of Football Operations, is known for his aggressiveness involving player acquisitions, the draft included.
How much pull does Tannenbaum have in their war room? I have no idea. But I'm betting that he has some pull, or, at the very least, he can influence Grier in regard to his decisions. Perhaps it's all just a moot point. Maybe they jump up a few spots to assure the selection of Charlton, or maybe Taco just falls into their lap at #21.
And just maybe Lions Defensive Coordinator Teryl Austin has some influence in Detroit's war room, and maybe he prefers a bigger, more versatile lineman, say, like, Malik McDowell from Michigan State. Austin's philosophy on defense is to play the run, first and foremost, and McDowell offers him a more capable body with the skillset to accomplish just that.
Maybe this or maybe that …
The running theme in this series is Who Really Knows? I certainly don't.
But I know this much: the Dolphins better find a pass rushing prospect early in this draft, as Cameron Wake has fought Father Time for as long a defensive end in the National Football League should be allowed — and then some.
23. NEW YORK GIANTS
TEAM NEEDS: Offensive Tackle, Running Back, Guard
To prove that I am indeed the "unbiased" evaluator that I proclaim to be, I will give the G-men an accurate and thorough evaluation here, as I've always secretly admired the way the've conducted themselves as an organization during the Tom Coughlin era.
This is my admission …
Yes, it's true. I secretly enjoyed watching the combination of Brandon Jacobs, Tiki Barber and/or Ahmad Bradshaw dictate the pace of the game, how they would break your will on defense. I've always loved that brand of offense; that type of identity. And nobody played that brand better than those Coughlin-led Giants teams.
But things are different now. Where Tom Coughlin preferred to beat you over the head with his rushing attack (which, in turn, opened up the arial attack by way of hard, play-action passing), Ben McAdoo prefers attacking teams first through the air, then by running the ball and balancing out the equation.
It's a philosophically opposite approach to offense, but that's exactly where the game is at today. McAdoo wants to run the ball when he sees four or five or six DB's on the field. Ben likes to play the numbers game, which is fine, but the Giants will never truly demonstrate the ability to run the football with greater results unless they address — and fix — the existing issues on their current depth chart.
So what are those issues then?
That's a great question. Offensive tackle (throw offensive guard in there, as well) and running back are the positions that Giants GM Jerry Reese must focus on early in this year's draft if he honestly expects to compete for the NFC East crown — let alone a Super Bowl title — in February of 2017.
And with the 23rd pick in the 2017 NFL Draft, the New York Giants select …
» Cam Robinson, Tackle, Alabama
Let me preface this by addressing the quarterback links and rumors that are swirling around the Giants rumor mill as we get closer to Day 1 of the Draft.
Yes, Eli Manning is a 36-year old quarterback (soon-to-be 37) with 13 years of NFL experience under his belt. That alone should have Jerry Reese preparing for Life After Eli with the Qb's from this year's draft class.
But only Jerry Reese truly knows where Eli stands in this stage of his career.
Reese has been GM of the Giants since the 2007 season, Eli's third in the league. He's seen Eli at every stage, from the youthful days through the veteran years, and I believe that Reese has an accurate gauge of the situation's current temperature. He may not know for certain if Eli's at the end of his rope or not … but he knows that the end is near, that it's coming around the corner.
So with that being said, if Reese has identified who he believes is Eli's successor, then I wouldn't at all blame him for selecting that player with the 23rd overall pick. Afterwards I may question and critique the pick, if I don't agree with Reese's selected quarterback, but that's neither here nor there.
I believe Cam Robinson would be a major upgrade to the Giants offensive line. He's big and athletic with long arms, and he comes from a great program. He's an absolute people-mover in the run game, a part of his skillset that will crossover well for him at the pro level. But I'm not the one making the pick, obviously, so we'll just have to wait and see what Reese will eventually do.
24. OAKLAND RAIDERS
TEAM NEEDS: Running Back, Middle Linebacker, D-Tackle
I list running back as the need of highest priority for the Oakland Raiders, but that comes with the caveat that Marshawn Lynch is continuing to demonstrate that he is still … well … Marshawn Lynch — that is, he's a man who roams this planet with enough I Don't Give A Fucks in him to stir up ample amounts of concern.
And if your name and job title reads: Reggie McKenzie, GM of the Oakland Raiders, then you are very fucking concerned right now, as Lynch has recently expressed interest in playing for the New England Patriots.
Shit, it concerns me, and I'm just doing a write-up here.
Although this definitely smells like a total Marshawn thing to do, no one really, truly knows whether it's the money or it's some other obscure issue that's holding up this Marshawn-to-the-Raiders move. Not even Marshawn Lynch's closest friends know. Not his former teammates who are now in the media. Not his former teammates that are still playing. And not his former coaches, either.
Only Marshawn Lynch's mother knows the truth of the matter here, and even that I question. Regardless, the Raiders undoubtedly need to address the running back position via the draft, with or without Marshawn's services this year.
And with the 24th pick in the 2017 NFL Draft, the Oakland Raiders select …
» Alvin Kamara, Running Back, Tennessee
In the spirit of Marshawn Lynch, I'm doing almost a complete flip-flop here.
When going over the Dolphins pick, I mentioned that this piece wasn't intended to be a demonstration of which player(s) I think a team will select in the Draft, but more a demo of who I would select if I were GM of said team(s).
Well, I lied — kind of.
As much as I love Christian McCaffrey as a prospect, in my heart I believe that he's just a better fit with certain teams than with others. And I believe that he would be a good fit for the Oakland Raiders. However, I also believe that Alvin Kamara is a good fit in Oakland, and more so, I think that he's their best fit.
While McCaffrey brings many of the same attributes that Kamara does to the table, the fact of the matter is that Kamara has the bigger, sturdier build of the two. And Kamara's the much fresher prospect, as far as mileage is concerned — all of which matter a great deal to most clubs.
I really like Alvin Kamara as a prospect, as much as I like anybody else. I believe that he's a sure-fire, backend-of-round-one selection in this year's draft, even if Oakland decides to pass on him here.
Ryan Lopes, of the blog RaidersBeat.com, wrote a wonderful piece on Kamara, with tons of film cut-ups that illustrate why Alvin's name is gaining popularity amongst the NFL decision-makers as we near Day 1.
But what about the whole Marshawn Lynch thing?
Even if Marshawn and the Raiders come to an agreement and he's wearing silver and black come September, Lynch simply cannot be relied upon for anything beyond the 2017 season. Kamara and Lynch give the Raiders, behind the movement the elephants along the offensive line provide, an incredible one-two combo at running back — something that the Raiders have been lacking since, well … a long fucking time.
And if Marshawn proceeds to do Marshawn things, if he decides to go chill with the flesh-eating indigenous people of the Brazilian rain forests this spring, then you can rest comfortably knowing that Kamara can handle full-duties if asked to.
Did you know that the Raiders have had only four running backs break 1,000 yards rushing over the course of the last 15-years? Four!
Yup. Let that one bounce around in the old noggin for a minute.
Unsettling, aint it?
In the game of golf, to yell fore is to provide a warning to those in danger of entering a golfer's swing. Well, then, Raiders Nation … FORE! Here comes the fifth running back on that putrid list. Funny, I now have vivid memories of a scene from the movie Falling Down flashing inside of my head. Classic movie!
http://giphy.com/embed/FBzqZGthkW6KQ?hideSocial=true
25. HOUSTON TEXANS
TEAM NEEDS: Quarterback, Offensive Tackles, Linebackers
The day is Tuesday, April 11, 2017. The time is 11:45 pm, which means there's only about 380 hours left before Day 1 begins.
Take out 5–6 hours of sleep per day, subtract two days per week for when I simply can't get shit done, and I'm left with roughly 150 hours to publish as much Draft content as I can. But check that math for me; it's not my strongest subject.
With time ticking away, its time for Rapid Fire Benny to take over.
It's true, math is not my strong suit, but here's a simple equation for you: no Quarterback + no Right Tackle + a soon to be 32-year old Left Tackle (who's coming off of a tough season where he fought through injury) = 200 pounds of Shit Your Pants.
The Houston Texans have holes to fill at some key positions. Let's go.
With the 25th pick in the 2017 NFL Draft, the Houston Texans select …
» Patrick Mahomes, Quarterback, Texas Tech
I highly doubt that Mahomes will make it to the Texans at 25, as this year's Draft seems to be heading in the direction of backend-1st-round teams with aging quarterbacks making moves up the board to assure themselves their pick from the 2017 Qb Litter.
And if I'm right, Mahomes surely won't make it this far.
But Qb-needy teams get kind of cuckoo on Day 1, look at the history of the Draft. It doesn't really matter, though, because this isn't even a mock draft and nobody gives a shit any way. You gotta have visitors to read what you've written. What are those?
26. SEATTLE SEAHAWKS
TEAM NEEDS: Cornerbacks, O-Line, D-Line
Looks like Richard Sherman isn't happy in Seattle. How bout that?
Shit, when is this guy ever happy?
Well, Sherman's unhappiness has pissed all over Pete Caroll's leg, now Pete's unhappy because his leg smells like piss. As for the bossman in the office upstairs, John Schneider? Yeah — he isn't happy with this mess, either. Neither are some of Richard Sherman's teammates … "reportedly."
What to do, what to do.
If I'm John Schneider I'm sending this little brat to anger management classes — paid for by the club, of course, as I'm both a wise and classy General Manager. Who knows how this drama ends. Guess we'll find out. Regardless of the situation, the Seahawks DB room needs to be upgraded by way of the Draft, and it starts on Day 1.
With the 26th pick of the 2017 NFL Draft, the Seattle Seahawks select …
» Kevin King, Cornerback, Washington
There is no clear #2 Corner prospect behind Ohio State's Marshon Lattimore, therefore Kevin King is definitely in play with this pick. But that's not why I have Seattle selecting King. Pete Carol and John Schneider will select Kevin King for one reason and one reason only: he's 6-foot-3.
Can Kevin King play, is he any good? Shit if I know!
The only thing I do know is that King is 6-foot-3-inches tall. And that's the only thing that I need to know, because that's the only thing that matters in Seattle. Capeesh!?
Kidding aside, Kevin King is a perfect Seattle cornerback prospect. He's not only tall, he's not only fast and athletic (Combine: 4.43_40-time, 39.5″ Vertical, 6.56_3-cone time), but Kevin King plays with a certain amount of toughness on the field — the type of toughness that resonates in Pete and John's hearts. King plays with instincts and aggression, as well. And, oh — he has good ball skills, too.
Yes, Yes, and Yes, says Pete Carrol with glee.
If you're a DB with hopes and dreams of landing on the Seahawks roster, then all of these listed attributes are simply the minimum requirements from both Carroll and Schneider, attributes Kevin King has in spades — attributes that may have the GM, the Head Coach and the rest of the braintrust in Seattle anxiously holding their collective breaths on the night of April 27, 2017.
27. KANSAS CITY CHIEFS
TEAM NEEDS: Cornerback, ILB, Running Back
And now, Andy Reid's five most favorite things, in no particular order:
A good fat joke.
Cropdusting the entire bench from the sideline on game day.
A good rub-n-tug from a classy place downtown.
Good Barbecue.
A versatile, multi-dimensional, big-play scat-back.
Yep, I think that about covers it.
Listen, despite his obvious shortcomings — like his poor clock management skills in critical games and his weekly reiteration of his post game catch phrase "We gotta do a better job of ____, and I take full responsibility for that," Andy Reid is my by far and away my favorite Eagles coach of All-Time.
Andy's accomplishments during his time in Philadelphia speak volumes of him as coach, so needless to say I still root for The Walrus, aka Big Red.
And if Andy Reid knows any three things as well as he knows the menu at Arby's, then those three things irrefutably are:
Quarterbacks, and how to develop them.
Running backs, and when to draft them.
Rub-n-tug spas, and where to find them.
** BBQ Restaurants and Chucky Cheese locations just missed the cut. **
In all earnestness, Andy Reid has his KC squad set up to compete for the AFC West crown for years to come — just as he did the Eagles some time ago. Andy knows how to win football games, but like I stated in Thing #2, Andy knows how to find running backs that fit his system. And, as you also know from Favorite Thing #5, Andy is fan of multi-dimensional scat-backs that can create big plays for the offense, which is something the Chiefs are currently missing. Fortunately for Andy, this year he doesn't have to look very far to find one.
With the 27th pick in the 2017 NFL Draft, the Kansas City Chiefs select …
» Christian McCaffrey, Offensive Weapon, Stanford
Lately I've been hearing that Christian McCaffrey's name could be called within the first 15-picks of Round 1, with some believing that he may even go in the top-10. Both of these are hard sells; to me they are, at least.
They reek of smokescreen aroma.
I just find it impossible to believe that all of these NFL evaluators and decision-makers, who traditionally place a lot of stock into measurables, especially at the running back position, have all of this sudden made an about-face by granting this one exception to a 5-foot-eleven-inch, 202-pound scat-back — that some see as a better fit at slot receiver — who didn't even crack the 4.4 mark in his 40-yard dash.
Oh yeah, I almost forgot about my favorite part of the whole equation …
Christian McCaffrey is caucasian. Uh-oh!
This could very well be the reason behind the exception. If I'm wrong and McCaffrey ends up drafted in the Top-15, then this will go down as one of the greatest examples of white privilege that I've ever witnessed. And I say this as a completely geeked up, Christian McCaffrey fan-boy.
I'll give a 7% chance of McCaffrey being selected within the top-20 picks of Round One — great odds if you're pro McCaffrey top-20 … any takers?
Regardless, if I know Andy Reid as well as I think I do, then the unmitigated excitement of watching Christian McCaffrey fall into his proverbial lab on the night of April 27 will have him finger-blasting his own belly button until it ruptures. McCaffrey is the perfect — and I mean PERFECT — Andy Reid running back. He's a Swiss Army Knife, a mismatch nightmare, the type of player that Andy Reid builds his entire offense around, à la Brian Westbrook.
28. DALLAS COWBOYS
TEAM NEEDS: Pass Rusher, Safety, Linebacker
At last — the Round 1 range where the Qb-needy teams come a-calling. Here's what I'm thinking the Cowboys options are:
Trade out; take the extra draft equity by moving down or out.
Stay put and select a good player at 28.
Ahhh — that was a good one. I just wanted to create a little bit of empty excitement because Fuck the Cowboys, that's why.
And with the 28th pick in the 2017 NFL Draft, the Dallas Cowboys select …
» Obi Melifonwu, Safety, Connecticut
I know a whole lot about the game of football and all of it's 32 teams. From the coaches, to the players, right down to the offensive and defensive schemes, I know it all.
But, for the life of me, I cannot figure out why Stephen and Jerry Jones continue to disregard Rod Marinelli — the Cowboys Defensive Coordinator/D-Line Coach since 2013 — in the 1st round of the Draft. The only defensive player selected in the 1st round of the Marinelli era was safety Byron Jones, also of Connecticut, in 2015.
Aside: Five minutes ago I just became aware of Connecticut's spelling. I always spelled it as it sounds: Con-net-i-cut, not Connect-ti-cut. Blows my mind.
School ties and position titles are not the only things that connect Jones and Melifonwu, as both are blessed with the same exact type of ridiculously gifted, jaw-dropping athleticism that defies the laws of physics.
OBI MELIFONWU, 2017 NFL COMBINE:
http://giphy.com/embed/FBzqZGthkW6KQ?hideSocial=true
BYRON JONES, 2015 NFL COMBINE:
http://giphy.com/embed/FBzqZGthkW6KQ?hideSocial=true
Both Melifonwu and Jones were equally as impressive with their vertical jump. Youtube them, if you haven't seen them already.
Obi Melifonwu is a player that fills a need in Dallas' secondary and offers Rod Marinelli a whole lot of defensive versatility. Some evaluators believe that he could convert to cornerback because of his athleticism. I don't see that vision aligning with Marinelli's, however, he'll certainly know how to utilize Melifonwu and his abundance of ability, as Marinelli is as good at maximizing talent as there is in the league.
29. GREEN BAY PACKERS
TEAM NEEDS: RB, Edge Rusher, Receiver
The Green Bay Packers' roster construction comes at the hands of GM Ted Thompson, who has a pretty good track record of acquiring talented and productive players by way of the Draft. In fact, that's where it ends for him.
Thompson's reputation as a man that builds through the Draft has been a double-edged sword for this Franchise, because lately the Draft just hasn't been enough to push the Packers closer to the Lombardi Trophy. Truthfully speaking, the Packers struggle to sniff the Conference Trophy most years, and therein lies the problem.
Aaron Rodgers' career could presumably sail on by, void of championship contention, while Thompson continues to stay the course of "building through the Draft."
What a shame that would be, right?
Needless to say, Ted Thompson must select an absolute impact player with this year's 1st round pick if the endgame is to win it all.
With the 29th pick in the 2017 NFL Draft, the Green Bay Packers select …
» Takkarist McKinley, Edge Rusher, UCLA
Since the Packers failed to add a proven veteran in Free Agency to aide this young Packers' secondary, they're kind of stuck with what they have. Adding more youth to the group by way of early round picks is not the solution to their problems. However, adding more pass-rushers to the unit can only be to their benefit.
I think McKinley will make it to the Pack at pick 29, and man should they feel lucky if indeed he does. If not for a torn right labrum, fresh from the operating table, McKinley probably wouldn't be an option for the Packers — not here, anyway.
"Takk," as he's often called, is an explosive pass rushing prospect that plays with the type of relentlessness that the coaches on his side of the ball covet. With Ted Thompson's annual peddling of the message "Draft, Draft, Draft," it's players like Takk McKinley that provide the type of desired impact that justify his philosophical approach to the offseason.
30. PITTSBURGH STEELERS
TEAM NEEDS: Tight End, Pass Rusher, ILB
I went back and forth on this one. Just as soon as I disregarded the notion that Ben needs more weapons on offense, I stopped and said, "Hold up — this don't smell right."
I had to refocus my thoughts. "Remember how easily the Pittsburgh offense was erased by the Patriots defense in the Conference Championship game last year?" I said to myself. Yeah, that loss definitely falls on the Steelers offense. The Steelers moved the ball on the Pats all night long, they just couldn't find the end zone. And that's the problem they face, with Day 1 of the Draft just weeks away.
With the 30th pick of the 2017 NFL Draft, the Pittsburgh Steelers select …
» David Njoku, Tight End, Miami
Few teams in the AFC, if any, have a roster construction capable of contending with the Patriots. The Steelers are one of those teams. That much is obvious.
So, just like I mentioned in the Saints' column, I will not cosign a 1st Round Steelers Game Plan that involves a quarterback discussion. Nope. I don't care if Ben announced today that the upcoming 2017 season will be his last. I'm fully dug in on this.
I cannot and will not be persuaded into the idea that drafting Ben's replacement with the Steelers' 1st round pick is in the teams' best interest.
If the Rooney clan has their way and forces Steelers GM Kevin Colbert into making this happen, then so be it. If not, then Colbert should have no problem selecting the player that I have in mind for them — David Njoku.
Again, looking back and judging what went wrong for the Steelers offense in that lopsided AFC Championship game isn't all that difficult. Bill Belichick and his coaching staff had their defense prepared with the perfect game plan:
Double cover Antonio Brown with a man on top and a man underneath.
Leverage linemen with linemen: keep Pitt O-line at bay while controlling the gaps so our linebackers can make plays on Le'Veon Bell. Do not over-pursue.
And we know how the rest of the story goes. Bell twisted his ankle early in the game, so we'll never truly know what could've been for the Steelers, but it was clear to me that the they were outmatched from the onset of the game. Successfully eliminate Brown's big plays, and the odds of beating the Steelers are now in your favor.
With the immensely talented (and equally immature) Martavis Bryant returning from his 1-year suspension, the odds of executing said game plan will change quite a bit.
But can they really rely on his contributions going forward?
Where is Bryant's commitment level at? Is he all-in? Has he truly learned his lesson? Has he quit smoking "the WEED," as blowhard Stephen A. Smith would say?
Many questions, and fewer answers, exist for me to place my trust in this infamous pothead. Martavis Bryant has a whole lot to prove before he can gain anyone's trust.
Another thing that was evident in the Conference game was the lack of production from the tight end group. I like Jesse James, but he'll never be anything above mediocre in this league. And you can now officially place a fork in the Ladarius Green project.
David Njoku brings all of things that Green did, when healthy, but offers a ceiling that Green would never be capable of reaching. Njoku is a complete mismatch nightmare, and his length, as well as his freakish athletic traits, will give Ben the red zone weapon that he's long been begging for. Good luck with that game plan, Bill.
31. ATLANTA FALCONS
TEAM NEEDS: Guard, Cornerback, Pass Rusher
If I was asked to highlight the one thing about the Atlanta Falcons that impressed me the most last year, it would have to be that astonishing gag reflex that was on full display in the second half of the Super Bowl. I mean, it was special.
Like, really special.
Like, Jenna Jameson, in her prime, on her knees with Peter North kind of special.
Seriously though, the most astonishing thing from the Falcons came to me when I was examining their roster. Wow! They. Are. Stacked.
Like, Jenna post '94 kind of stacked. (Yup. I went right back to the well.)
Kudos to Thomas Dimitroff for providing a young Atlanta coaching staff with an ample amount of talent to work with. The Falcons offense is set, as far as I'm concerned, and the defense — they aren't far behind them. Without a single glaring need to be found, Dimitroff has plenty of options here with this pick.
With the 31st pick in the 2017 NFL Draft, the Atlanta Falcons select …
» Evan Engram, Offensive Weapon, Mississippi
And to the winner goes the spoils, or something like that.
I know that Steve Sarkisian, the recently hired successor to Kyle Shanahan, has said that he'll keep the principles on offense basically the same as they were last year (and the year before that), but it remains to be seen if that holds true.
Regardless, Evan Engram provides the Falcons with a couple of things:
Engram instantly becomes Matt Ryan's go-to when teams commit to Julio.
As the lone Falcons receiver capable of creating mismatches and one-on-one opportunities, outside of Julio Jones, Engram's presence on the field allows this Falcons offense to remain explosive in the event of a Julio injury.
Jones missed a couple of games last year, and it did not seem to matter one bit. The other playmakers stepped up and allowed Matt Ryan to forge through Julio's absence. They kept the offense on schedule. But it was only two games.
A new coordinator will inevitably run into issues, just as the offense will inevitably dive if Julio were to miss a spell of games, or worse, the season.
Evan Engram comes equipped with his own Julio Protection Plan, of sorts.
Aside from all that, Evan Engram's draft grade has to place him as the Best Player Available when Atlanta is up to bat, which is reason enough for Thomas Dimitroff to pull the trigger. He can address their other so-called holes with his remaining picks.
32. NEW ORLEANS SAINTS (from New England)
TEAM NEEDS: WHO CARES!?!??
I'm tapping out right here, right now. I am utterly pooped. The funny thing about it is, nobody even gives a shit, which is understandable. This is New Orleans second pick in the 1st round, and if they didn't screw up the first one then you can rest assured that Micky Loomis will fuck this one up.
Boo-hoo dat dey gonn beat dem Saints?
Uh, Micky Loomis, that's hoo — with an aluminum baseball bat and a clown costume on.
And now, this:
http://giphy.com/embed/FBzqZGthkW6KQ?hideSocial=true
---
Alright, Bob and Dad — thanks for reading. I promise you that I had a blast.
Don't forget to click on the love button if you enjoyed reading this.
Also, do me a favor and share this with your buddies via email or social media platforms. It's so freakin easy to do. Even though you know that you won't and I know that you won't, it's still called a favor for a reason.